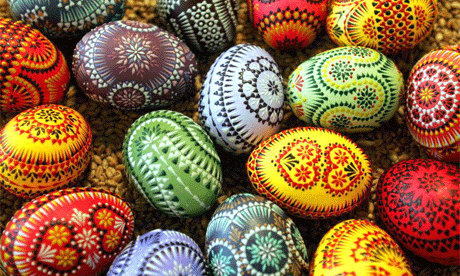 Happy Easter!!!
Is decorating eggs part of your Easter tradition?
My kids are 15 and almost 18 and we STILL dye eggs every year. I pretend it's because they enjoy it so much but I know it's really the other way around. They do it because they know I love it. What can I say?...I'm still a kid at heart. And it's just not Easter without pretty eggs. Well, that and chocolate bunnies of course.
Take a look at these Ukrainian Easter eggs called Pysanky. Designs are "written" on the egg in hot wax with a stylus or a pin-head. Then they are dipped into a series of dyes, light to dark, with more wax decorating done between colors. The final step is to melt away the wax and reveal the designs. So detailed and SO beautiful!
How will these eggs inspire you? Create something and link back here by midnight on Thursday. On Friday, we will select a prize winner. Have fun!!