It's our favorite day of the year - a HOLIDAY just for us paper crafters. What are YOU doing today? Attending a crop, scrapping from your room or maybe at work longing to be scrapping.
I thought I would send you some inspiration. We all know how popular banners and bunting are as trends in the scrapbooking industry. You see them all over the place - in graphics on the patterned paper, stickers and handmade with die cutting tools and scissors. What I have noticed, lately, is how diverse the banner has become. It is no longer a little row of flags anymore. They come in all shapes and sizes now and even as one singular pennant. I love it! Here is some eye candy for you. Please make sure to click the source links to take you to the blog or gallery home of each layout to leave some love for these designers.
I love this layout by Piradee and how she made the pennants huge as the background.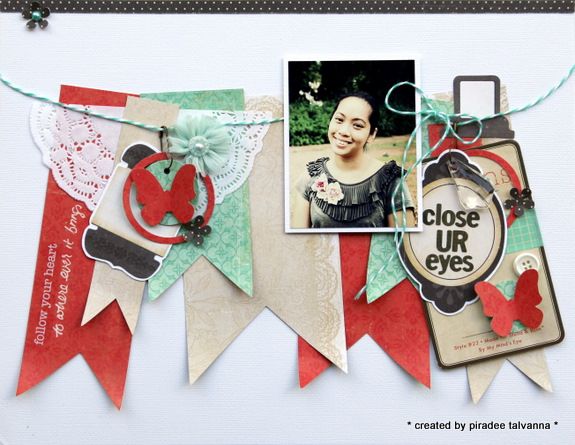 The following layout found on the JBS Mercantile blog, by Celeste, showcases how to use pennants instead of just regular rectangle shapes to add interest and pattern. Love how just snipping the ends that way can add such a cool element to the layout design.
Our very own Stacey Michaud goes gaga for banners. I have unofficially dubbed her the banner queen. This layout is my all time fave of hers showcasing how to make a banner using other elements - not just the flag or pennant shape. Brilliant Stacey!
And here is one from me. My layout is based off a sketch by
Allison Davis
. I wanted to try this new fangled way of using pennants on my layout. Love the way it turned out and how unexpected and interesting the pennant bottoms can be on a layout.
How have you used banners and pennants on your layouts? I challenge you to think outside of the box! And if you are scrapbooking today, have so much fun! I also invite you to come join in a fun blog hop. Just head over to my
blog
and it will link you up with the other blogs. There are prizes too. :)
love,