Can you believe how fast this year is going? It's already the second week in April! Before we know it, it's going to be Mother's Day. So, I thought I would share this simple altered gift set that would make a great Mother's Day gift.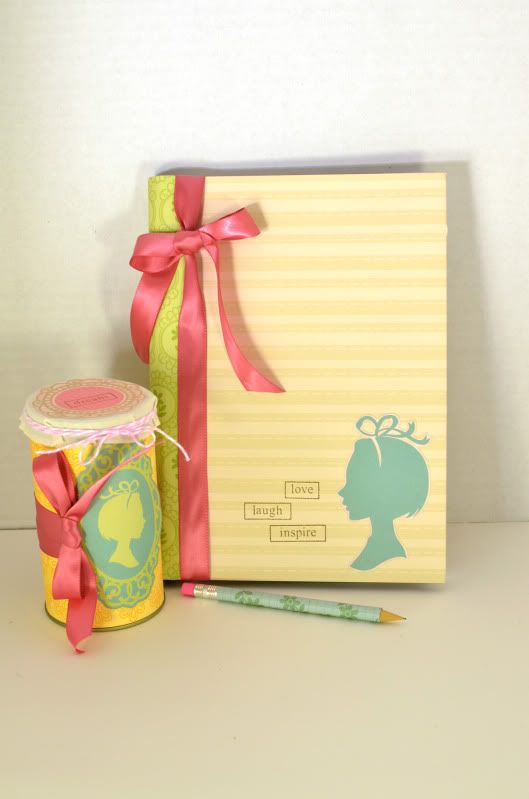 This gift set includes a matching notebook, pencil and candle. I used a candle, notebook and pencil that I got on the clearance and dollar racks at Micheals. The notebook was sort of faux leather, but really ugly. The candle was in a Christmas tin and the pencil, I believe, was leopard print!
I used the Audrey collection from My Little Shoebox, which is perfectly girly but sophisticated enough for a woman. I stayed mostly away from the pinks in the collection so that I could use this gorgeous pink satin ribbon for an accent without worrying about the colors matching perfectly.
For the pen and candle, I just cut the paper to the correct length, added a little bit of glue and then wrapped it around, securing with more glue at the end.
On the candle I wrapped the pink ribbon around it, then added a large sticker to the front. The pink bow was added last, but tucked under the sticker just a little, to make it look like it wasn't added last. I just find it easier to tie the bow separate from the ribbon that is wrapped around the container. I used some muslin on the lid and secured it with some twine, because I couldn't get the paper to cover the oddly shaped lid to my satisfaction.
On the notebook, I used the pink ribbon to cover the seam between the two papers. The spine of the book was faux leather sewn onto the front cover, and I tried to tuck the paper under so that I got a clean line, but there just wasn't enough overlap. Ribbon to the rescue!!